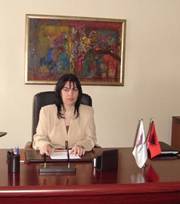 Tirana Stock Exchange, is the only organize securities market in Albania. The development of transparent capital market, based on international standards and activation of capital market as a trading platform for different financial instruments, is the main objective of TSE.
The presence of an active domestic capital market and efficient, would give companies the option to increase capital by understanding that brings real benefits for the capital market. An active and efficient capital market will expand the capital market in Albania by providing various investment opportunities and mechanisms to ensure efficient and transparent pricing, will increase access to finance for Albanian companies.
The new law "On Securities" No. 9879 date 21.02.2008, that abrogate the old one No. 8080 date 01.03.1996 "On Securities", has bring improvement for capital market in Albania, that fulfill, enriched and adapted with contemporary legislation based on EU countries for financial instrument structures, organization and securities exchanges function, brokerage company and commissioners, investment companies and adviser of investment, securities register, the system of clearing and settlement of account for securities transactions, confidential information dispersal.
As requirement of new law "On Securities" were draw the Rules of Tirana Stock Exchange that was approved by Financial Supervisory Authority Board whith decision no.121 date 02.10.2008. In these rules are include in a systematic manner rules of membership, listing, trading, clearing and settlement of transaction on securities that will be trading in Tirana Stock Exchange.
Rules of Tirana Stock Exchange were prepared and adapted with contemporary general principals for functioning of capital market of European countries and have like purpose protections of investors and ensure a full transparency of companies that will be listing in Exchange, protection of minor stakeholder's interests and ensure the equal treatment for all shareholders, application of International Standard of Accounting for all companies that be listing in Exchange and prevention of unlegal practice in trading securities on Exchange.
The capital market needs for particularly attention from business. Till offer and demand for the market product will be in countnuesly in development, than time is coming that activity of this market will grow and will be useful for participant of this market .
A. FURERAJ
General Manager